Subscribe to this category
 Welcome to our new school website!
Recent Classwork
Kia Ora everyone, Rerekohu will travel home on Thursday nights and work with Kapa Haka on Friday 12th 9am and continue till Saturday 5pm. There will be three practices with Rerekohu and Darlene. Dates:  Wananga 1: 12-13th Feb Wananga 2: 4-5 March Wananga 3: 1-2 April These dates have been added to the school calendar. […]
Teacher Only Day – Thursday 28th January 2016 School Opens Tuesday 2nd February 2016 Schoolwide Swimming -Week 2 Friday 12th February
Recent Sports News
BAS vs Taipa at BAS on the 14th September. The winning school will challenge Abundant Life Area School on the 24th September.
Recent Cultural News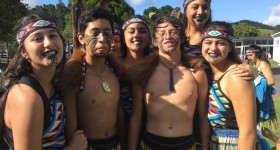 Here are some of the photo's of our Kapa Haka Roopu from this year's Tai Tokerau Festival hosted by Opononi Area School.