Principal's Mihi
Ko te mihi tuatahi ki to tatou Matua nui i te rangi, nana te timatanga, nana hoki te whakatutukitanga o ngā mea katoa. Ko te mihi tuarua ki ngā mate, ngā tini aitua kua wheturangitia, haere, haere, haere atu ra. Ki a tatou ngā hunga ora, a tatou whanau o te kura, nei ra te mihi mahana ki a koutou katoa. Tena koutou, tena koutou, tena tatou katoa.
We are already halfway through this term and the school is already so busy with activities in and around the school. We have just finished our School-wide Swimming Sports, which was a great success with lots of whanau support; Kapa Haka Noho has began; Basketball and Volleyball competitions have began; and we have just had another successful Whanau Day (Academic Counselling Day) at the school. I would like to mihi to all our whanau who have been in and out of the school supporting our tamariki to succeed. I would also like to welcome our new students:  Rewa Harris, Year 9; Finn Waipouri Axe, Year 7; Tiheiwa Waikato, Year 10; and Beau and JJ Herbert, Year 6 – Nau mai, haere mai.
Up and Coming
Week 5:
5th of March: Whanau Day / Academic Day
6th of March: Year 7-13 Girls Volleyball
7th of March: Year 7-13 Boys Volleyball
8th-10th of March: Kapa Haka Noho 2
14th of March: ICT Cassandra visit
14th of March: Gateway Course: Team Work, 2 days, 10 Level 3 credits
15th-17th of March: Kapa Haka Noho 3
Junior School
North Hokianga A&P Show
A number of students across Years 0-6 achieved prizes for their Literacy and Arts & Crafts entries at the 2019 North Hokianga A&P Show recently. From Years 0-3 they included: Jaan Kumar, Cooper Proctor, Don-Tae Ritchie Mcewen, Jahkyah Messina-Selwyn, Julius Kumar, Te Huia Maika and Emma Little. A big thanks to Whaea Ngaire Morey, Whaea Gaye Semenoff and Terese Morey for helping students to prepare their work for the show.
Thank You – Whānau Support
A warm thanks to Sonya Broughton who has volunteered to support reading with Years 0-3 once a week.    Students have warmed to her interest in helping them to read.
Student Assessments
Student assessments are underway.  This will help to identify what students know about reading, mathematics, writing and how to plan for their future learning.  
New student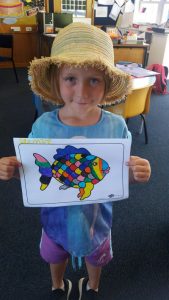 Nau mai, haere mai to Jazmine Pirini (Year 2 student).  
We welcome you into our classroom and hope that
you enjoy learning at Broadwood Area School.
Possums helping with Education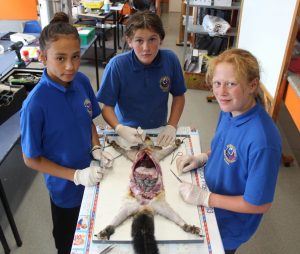 Who would have thought that anything good can come from a possum?  The Papa Atawhai Hub seniors are dedicated to catch possums and humanely dispose of them.  The seniors pluck the dead possums and keep the fur in a freezer until they have accumulated one kilogram of fur to sell.   There is a great market for possum fur products.  The Year 7&8 Science students were lucky to get two dead possums from the seniors to be dissected.  We always use dissecting equipment and heavy duty gloves.  All dissections are always done under the watchful eyes of Matua Carl.  (fltr: in the photo: Faith, Sarah and Zaria)
HAIKU: a Japanese Poetic Art-form
"Haiku" is a traditional form of Japanese poetry. Haiku poems consist of 3 lines. The first and last lines of a "Haiku" have 5 syllables and the middle line has 7 syllables. The lines rarely rhyme.
The fresh air seems nice
Teachers growling in class
Goats make terrible voices
By Taipari
Squawking in the bush
Splashing in the swimming pool
Birds singing out loud
By Anataia
Birds singing loudly
And the green cicadas too
Intake the fresh air
By Jordon
Senior School
                                                                                                                                                                 HEAD BOY at BAS 2019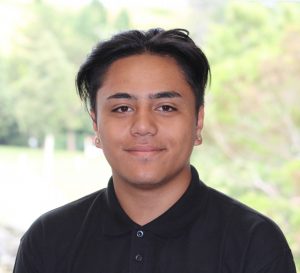 Ko Māmari Te waka; Ko Ongarō Te Maunga; Ko Rotokākahi Te Awa; Ko Whangapē Te Moana; Ko Mōrehu Te marae; Ko Te uri o tai Te Hapu; Ko Te Aupouri Te Iwi; No Pawarenga Ahau.
Kia ora.  My name is Hone Adams and I was recently elected to be the new head boy of Te Kura Takiwa O Manganuiowae, AKA Broadwood Area School.  I am seventeen years old and I come from the heart of the Hokianga, i.e. a small place called Pawarenga.  I am currently a Year 13 student and my interests are Sport and Hospitality.  I wish to pursue a career in the Hospitality Industry and I am planning to study at QRC in Pahia.  The subjects I am taking at the moment include: Papa Atawhai, Hospitality, P.E. and Te Reo Maori.  I love being Maori and BAS has been great at educating me to appreciate my beautiful culture.  My vision as the new head boy is to inspire all the tamariki at our school to reach for their greatest potential.
Tena Koutou, Katoa
HEAD GIRL at BAS 2019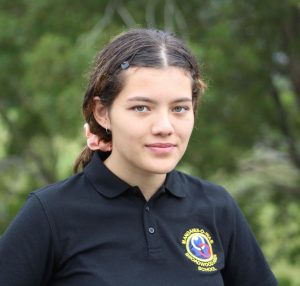 Ko Ngatokimatawhaorua toku waka
Ko Pakeretu toku awa, Ko Whakapiki toku maunga, Ko Pikiparia toku marae, Ko Ngapuhi toku iwi
Ko Te Ihutai toku hapu
Kia Ora,
Ko Tia Roberts toku ingoa,
No Pikiparia ahau
I am 17 years old and currently a Year 13 student at Broadwood Area School. I am a manukura at our school and was appointed to be the Head Girl for 2019. As a possible future career pathway, I aspire to go to Otago University to hopefully study Film and Media or Philosophy, after I had finished my last year at school. The subjects I take are Mathematics, English, Papa Atawhai, Hospitality, Physical Education and Te Reo Maori. I am participating in our current Kapa Haka roopu. I have been doing Kapa Haka since I was in Year 7. My main interest is playing all types of sport. I am in our school Netball team, Basketball team and Volleyball team. As a student leader, I enjoy bonding with all of the students at our school.
 YES – Can Do…
The acronym, "YES" stands for "Young Enterprise for Students".  This initiative teaches students how to manage a business.  Students first have to think of a possible enterprise.  Allow me to explain via example.  Daniel is an amazing barber (men's hair cutting expert).  Under normal circumstances I would not have allowed him to cut boys' hair in the Science Laboratory.  However, he convinced me that cutting boys' hair is his choice of initiating a YES-business.  The next thing that Daniel has to do is to draft a Business Plan.  Daniel's business plan will starts with a Vision: "To provide affordable haircuts to our boys who normally do not have access to barbers in the bigger towns".  Daniel's business plan will continue with identifying possible barriers and how to overcome those barriers, i.e. Barrier One: "Where will I cut the boys' hair?"  Possible Solution to Barrier One: "I will ask Matua Carl if I can cut the boys' hair in the Science Lab."  Reason for Possible Solution to Barrier One: "The Science Lab has a tile floor, which is easy to clean."  Barrier Questions, like: "What will I do with the hair that falls to the ground?" or "How will I disinfect my equipment?" or "When am I allowed to be in the Science Lab?" or "How will I make bookings?"  or "How much should I charge?"  and FINALLY: "How can I expand my business so that others can do the work, so that I can just oversee and do the quality control?" are all questions that need to be answered.  Matua Carl is committed to take students, like Daniel through the whole process of starting and developing a business.  The end result will be NCEA CREDITS and more importantly, the ability to start viable businesses in the future.  We believe in the whakatauki that says: "As long as you work with your hands, you will never be rich" and "Rather utilise one percent of a hundred people's effort, than a hundred percent of your own" .  The YES-programme will be run via the Papa Atawhai Hub.  The kaupapa of the Papa Atawhai Hub is to promote businesses that are related to CONSERVATION, however, students will have the freedom to "cherry-pick" their own business interests.  Furthermore, students of other Hubs, may join in as well.
Whanaungatanga via haircuts…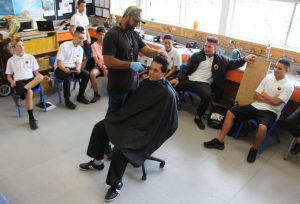 Growing up as the second eldest of seven brothers, at the age of fourteen, I was given a pair of clippers by a family friend who owned a few hair salons in Sydney. From then on I was always cutting my own hair and then moved on to cut my younger brothers' hair and also my friends' hair.   This skill of cutting hair has helped me to engage better with my relations and it helped to build closer bonds.  When you cut someone's hair you are forced to pay attention to one another.  As the years passed, I was able to mentor my younger siblings to excel in their schooling, help them to develop leadership qualities and to help them to identify the desires they wish to pursue in the future.  Since then, I have seen many of them receive various awards such as Principals' Awards for various subjects including English, Engineering, Science and PE.  Moreover, some of them got awards from institutions like Engineers Australia and Australian Nuclear & Science Technology Organisation (ANSTO) for outstanding academic achievements, etc.  I grew up with humble beginnings and my schooling days did not live up to its full potential.  This motivated me to find ways in which I could mentor my younger siblings, close relatives and friends to achieve at their highest.  As a youth services coach I wish to inspire and assist many others to achieve their greatest potential.  On Tuesday 26 February 2019, I started my social services at BAS with a few hair cuts.  Daniel, seated at the right, has become my protege in hair-cutting and the lucky guy receiving this brilliant cut is Thomas Topia.
Nga Mihi, Tame Taufa, Youth Services Coach, Kaitaia, Matauranga Whanui
Sports News
BAS SWIMMING SPORTS 2019
Broadwood Area School had its annual Swimming Sports on Friday, 1 March, 2019.  As usual, we had great fun and many whanau members came to support.
MEET OUR HOUSE GROUP LEADERS FOR 2019
Our house leaders started off with a great leadership momentum during our first school-wide sport event for 2019.  The leaders are FLTR: Tangaroa – Arianna and Paora; Kiwa – Tamina and Hone; Warehenga – Francesca and Daniel; and Mangopare – Tia and Logan.
General School-Wide Notices
School Stationery Fees: Whanau, please ensure that your child's stationery fees are paid as soon as possible at the main office.
Years 0-6: $30.00 for the year
Years 7-8: $20.00 for stationery, $20.00 for Technology fees for the year
Years 9-10: $30.00 for stationery, $20.00 for Technology fees for the year
Years 11-13: $30.00 for stationery, NCEA-Fees (vary for each whanau)
Uniform Policy: All students are expected to wear our school uniform every day: i.e. Plain black shoes; black socks; black pants, skirts, or shorts; school polo-shirt; and school jumper/school jacket. Students may not represent the school without a full uniform.
management was approached by senior students to have a number one uniform; a school blazer; dress black pants; and dress black shoes for travel and special occasions. The school will look into the prices and then get back to the whanau.