Principal's Mihi
Tena tatou katoa, me mihi nui ki a koutou i te takiwa o Manganuiowae me nga whanau, nga hapori hoki. E rere ana nga whakaro ki te Matua nui i te rangi, koia ra te timatatanga me te whakamutunga o nga mea katoa. Rere tonu ana nga kupu ki a tatou tini mate, a tatou tini aitua puta noa i te motu haere, haere, haere atu ra. Kia tatou nga morehu o ratou kua wehe atu ki te po, tena koutou, tena koutou, tena tatou katoa. Tihei Mauri Ora
How quickly the end of term has arrived as we  now head into the holiday's. It has been another very busy and productive term with lots to celebrate. We have also experienced the loss of  loved ones which is always a difficult time for  whanau. The Education Review Office has spent the week with us and for a new Principal it has been an eye opener, lots of new learning and of course lots of discussion around planning and consultation with whanau for our future.  Term 4 brings us a little bit closer to Christmas and the end of the year, end of year trips, study leave, exams for seniors and our Community Whanau Consultation Hui. The purpose of the hui is to gather ideas, thoughts and aspirations from our whanau around education for the future of our tamariki. The Board of Trustee members are circulating a whanau survey to gather the thoughts of our whanau. The hui will be held at the school in the second week of Term 4 Wednesday 24th October. So whanau, have your say, come along and be part of the discussion and future planning.
Nga mihi nui ki a tatou kaiako, nga kai mahi me nga mema o te poari mo ta koutou mahi pai rawa atu i waenganui i te kura. A well deserved holiday, rest and recharge for the final term of the year is upon us. I will see you all back on our 2 planning days.
Ko te tumanako kia pai rawa nga ra whakataa, stay safe everyone and we will see you all back on the 15th October. Nga mihi
Up and Coming
Te Wahanga 4 / Term 4
Wiki 1 & 2 :
15/10/18: Term 4 Starts
20-22/10/18: Labour Weekend
23/10/18: SAF- Fiona
24/10/18: Community Consultation Hui – BBQ
26/10/18: North Hokianga Athletics for Junior School
Junior School
…
RoboPa.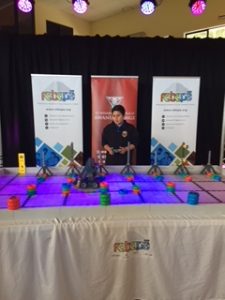 Year 5-8 students had the pleasure of taking part in the RoboPā – Robotics programme. Brought to our school by Te Whare Wānanga o Awanuiārangi. It was an awesome opportunity for our students to be involved in something new, exciting and relevant to the world that they will live in.
The final part of the programme, saw our two winning teams compete in the Taitokerau RoboPā Regional Scrimmage. Held here in Broadwood at the A&P Hall. It was an intense two days including a marae Noho, and lots of practise.
The students were assigned a challenge, then they had to build a robot, that they could drive to complete the task. Working with others teams, they attempted to accumulate the highest points over the two days. Te Kura Kaupapa Māori o Kaikohe were the eventual winners. They will head to Whakatane to compete in the National RoboPā Scrimmage. Broadwood Area School would like to thank, all those who made it possible for us to join this new experience.
Middle School
Year 7&8 Class
Our Year 7&8 class has become our biggest class at present.  These students have a pivotal role to play in the future of our kura.   They have started to bear the mana as ambassadors of Broadwood Area School and they are doing a great job.  The girls are very responsible for their age and they are working very hard at their academic progress.  The boys are a joyful bunch and they are growing stronger every day.  Our Year 7&8's tamariki have become the face of BAS and what a beautiful face that is.  Students from all over Hokianga  will soon flock to our kura, because we are on the rise.
Senior School
Senior Student Voice
As a senior student I will be leaving Broadwood Area School very soon.  As the last day of my school career come ever closer, the sadness about leaving wells up more and more.  BAS has given me a good run with quality .learning, good friends, excellent teachers and champion principal.  I know that I will be ready to face the big unknown out there and I am looking forward to it.  I guess I will have to make the most of the few days I still have left here at our beautiful kura.  Harmonie Gundry
MATHEMATICS update…
I wish to congratulate the Year 11 students for the excellent progress that they have shown in terms of their internal assessments throughout this year.  The MCAT examination went well and students are even more prepared for the final external November Examination.  I encourage those Mathematics students, who will be writing external papers, to study hard throughout the September holidays.  All seeds of hard work you sow today will result in a great harvest in the future.  If any student has a problem with any particular Mathematics problem, feel free to email me and I will return that email with a solution.  Remember that Term 4 will be as short as three weeks for most senior students. Those students who will be writing externals have the option of working alongside teachers in final preparation for their exams. Matua Joseph
Sports News
North Hokianga JMB Rugby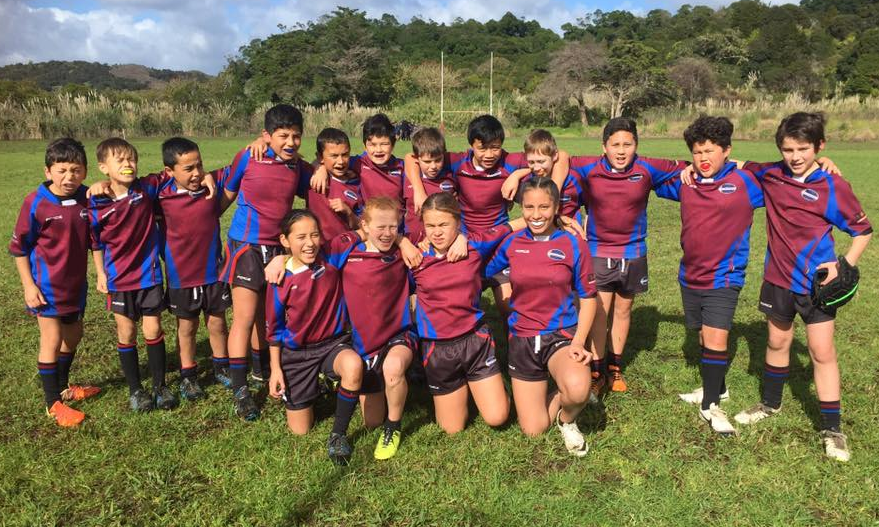 North Hokianga JMB rugby came to a close last weekend, with a beautiful  Prize-giving held at Waihou Marae in Panguru.  A great mihi to all our tamariki  who played Rugby and stayed committed to their  team this Winter season.  The Under 11's are: Tia, Anataia, Zaria, Sonny-Jon, Rawson, Taipari and Lance.  The under 13's are: Jordan, Joeseph, Phaige, Ashley-Jo and Pouaka.  Congratulations to the Under 13's team who were the Mangonui Challenge Cup winners for 2018.  Well done, Zaria Murray, for being chosen as the Mangonui Under 11's Player of the Year.  Zaria was chosen from a total of seven teams (Girl-teams and Boys-teams included)
Manganuiowae players acknowledged at North Hokianga Prize-giving:
Sonny-Jon Grbich – Most Improved Player – Under 11's
Rawson Grbich – Most Dedicated Player – Under 11's
Tia Proctor – Best Forward – Under 11's
Zaria Murray – Player of the Year and Scoring Most Points – Under 11's
Pouaka Skinner – Most Consistent Player – Under 13's
Far North Cross Country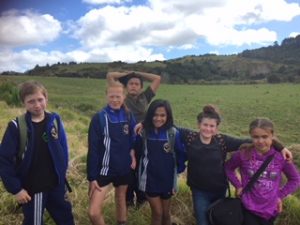 The annual Far North Primary Schools Cross Country event was hosted by Peria School on Friday, the 7th of September 2018. It was a warm Spring day and the course was a brilliant not only for runners, but also for the spectators who had a good view of the whole course watching the strategies, fitness and tactics of the tamariki unfold.  Our runners were nervous, but gave it their all against students from thirty-six other primary schools in the Far North. Most of our runners finished at the top half of the pack with Zaria taking the honours in the 10-Year old Girls division.  Our Cross country team included Alexandrina, Joel, Tia, Zaria, Sonny-Jon, Lance and Sarah.CROSS COUNTRY
School Wide Cross Country
Today we had our School Wide Cross Country Event.  The results of this event will be published with our next newsletter.  This has been a great way to end off Term 3 of 2018.  We are fortunate to have girls and boys of great athletic ability.  We are a small kura but our teams are always formidable.
SEVENS
Our sevens team played in Kerikeri on xxxx against nine other high schools.  Our players were James, Tristan, William, Karlo, Daniel, Logan, Johnny, Cannon, Pouaka and Kazius.  We came 2nd in the Top Pool and 4th overall.
General School-wide Notices
COMMUNITY CONSULTATION HUI 
HELD 24th OCTOBER AT THE SCHOOL
Nau mai, haere mai,
Come and share your thoughts, ideas and aspirations moving forward to the future for our tamariki and for our kura
PARENT / WHANAU SURVEY 
Our Board members are circulating a parent/whanau survey out in our communities, again to collect ideas, thoughts and aspirations for improvement in our school and for our tamariki. For every whanau member who completes a survey their name will go in the draw to win a $100 PaknSave voucher, and 2x $50 PaknSave vouchers. These will be drawn at our consultation hui 24th October. For whanau that attend the consulation hui their names will go into the draw for a gift basket. No reira nau mai, haere mai, korero mai.
NOVEMBER EXAMINATION AT BROADWOOD AREA SCHOOL 2018
As the Examination Centre Manger at Broadwood Area School I wish to extend my best wishes to all those senior students who will be writing one or more examination papers during the BAS November External Examination of 2018.  The first paper to be written will be English Level 1 on 12 November 2018 at 9:30 am (see the above summary of examination dates).  The students on the above list need to make sure about all the respective papers, dates and time that they will be writing.  It is always a good idea for students to inform extended whanau, so that everybody can help to ensure that the tamariki STUDY and turn up ON TIME and on the RIGHT DATE.  Students should turn up 15 minutes earlier to the time given on the above table, so that I can go over the rules and regulations of the examination procedures.  Remember that the kaupapa for this September holidays is to STUDY and our teachers will be on standby to answer any questions that students may have regarding their external examination mahi.  Nga mihi, Whaea Ngaire
TERM FOUR SHORT FOR SENIORS…
Seniors students are reminded of the fact that Term 4 will only comprise of three weeks in which all internal work must be completed.  The focus will then shift to preparing students for their external exams.  Those students who will be writing external examinations can start to study during the September holidays.  Teachers will be be very busy with planning and reviewing the curriculum for 2019 from Week 4 onwards. They will also be busy preparing and supporting students  with the up and coming external November Examinations.
ERO VISIT
The Education Review Office visited our school during the last week of this term.  We are looking forward to viewing their report. Aroha Knight and Terry Rodgers wish to thank the kura whanau, students and staff for the beautiful powhiri and manakitanga bestowed on them during their stay.
PB4L – Positive Behaviour for Learning – Mana Cards
Nga uara o te kura: TIKA PONO AROHA
Whaea Rewa has now taken over as lead teacher for PB4L, she has been busy creating Mana Cards for our students caught being good and displaying our school values which are being TIKA, being PONO and showing AROHA. Students are awarded cards by teachers and staff which accumulate HOUSE points.  Mana Cards will be calculated  and then  added to our school wide House Group Points Wall. Kia kaha tamariki  ma kia tu rangatira, kia u ki te tika te pono me te aroha.
HOUSE POINTS LEADER BOARD FOR TERM 3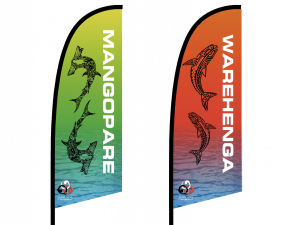 | | | | |
| --- | --- | --- | --- |
|  KIWA | TANGAROA | MANGOPARE  | WAREHENGA  |
| 5470  2nd Place | 6490  1st Place | 4995 3rd Place | 3435 4th Place |
OUR SCHOOL WIDE THEME FOR TERM 4 
"TANGAROA"
wai, awa, moana,nga momo ika, nga momo kai moana, swimming, surfing, water safety etc.
HAVE A GREAT HOLIDAY SEE YOU ALL BACK ON MONDAY 15th OCTOBER