Principal's Mihi
Tena koutou katoa,me mihi mahana ki te runga rawa, nana te timatanga, nana hoki te whakamutunga o ngā mea katoa, kororia ki tona ingoa tapu. Ka huri ki te ao wairua, a tatou mate, a tatou tini  aitua puta noa i nga marae maha o tenei takiwa, o tena takiwa, moe mai, moe mai, moe mai ra. Haere e te rangatira a Bob, haere okioki ra i roto i te ringa atawhai o te Atua. Ma te Atua koutou katoa e manaki, e tiaki te whanau pani i tenei wa pouri rawa atu. Ki te whanau whanui o tenei kura o Manganuiowae tena koutou, tena koutou, tena tatou katoa. Nau mai, haere mai te marama o Mahuru Maori.
Up and Coming
Wiki 8:
10/9/18- NZSTA Appraisal Hui
11/9/18- Te Manawatahi Hub 9.30-2.30pm A&P Hall Broadwood, SAF Fiona McGrath,
12/9/18- BOT Meeting 10.30am
13/9/18- PB4L Hui, MOE visit
14/9/18-NSSPA Hui
Wiki 9:
17/9/18- Principal's Mentor Visit,
18/9/18- Leadership Workshop Whangarei, Open Boys 7's Kerikeri
19/9/18-21/9/18 – Robopā Regional Scrimmage
Wiki 10:
24/9/18-27/9/18- ERO Visit
26/9/18- Duffy Theatre 1pm
28/9/18- School Term 3 Finishes 1;30pm
Junior School
LITTLE GREEN FINGERS 
On Monday the 27th of August the Junior School tamariki planted vegetable and flower seedlings in the planter boxes that Matua Phil kindly had built for us.  Whaea Gay Semenoff and Whaea Ngaire Morey where also there to help.
JUNIOR SCHOOL "STUDENT VOICE"
Faith Year 4: On Tuesday our teacher bought in sets of problem solving stuff that looked like Lego. We started building this play ground. First we read the instructions to make it right . We made swings, a round boat, and round about. We made monkeys to put on them. It was so much fun when we put the battery into the switch then everything went around and around. Next time we will make something different.
Alexandrina Year 4: On Thursday our class made fathers day T- shirt cards for Sunday. I was a bit embarrassed because I thought I thought I was going to be picked last but Whaea said that mine was one of the best. I made it with paper, green , yellow, black and gold. When it was Father's Day I couldn't find my card at first so I gave it to my dad at dinner home.
Tane Year 5: I made a Father's Day card from green and gold card . I gave it to my dad and he liked it.
SonnyJon Y6: Last week I made a Fathers Day card for my dad. Our teacher showed us how to fold it and it looked like a T- Shirt. I really liked my card and I wrote a note to my dad on it. Everyone else liked it too because I won the first prize but gave it to someone else. I gave it to my dad. I love my dad.
Middle School
SCIENCE MOMENTUM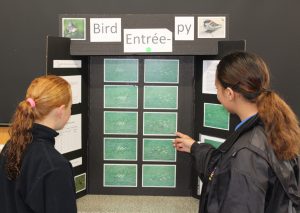 It seems like the Middle School tamariki are enjoying Science.  We believe that it is important to maintain the "fun-factor" in Middle School.  Learning always happens when there is a "fun-factor".  The brain secretes dopamine and serotonin, the so-called "feel good hormones".  These hormones act like glue to hold on to newly learnt information.  The most important component that middle school tamariki need to take with them as they graduate to Senior School are values like "aroha" for the wonder of natural phenomena, "tika" of exact scientific concepts and "pono" of newly gained revelations.  An example of "tika" in Science can be that "cloning can be done".  An example of "pono" in Science can be that "human cloning is a controversial issue".  Even though our main focus has been the theme of "Tane Mahuta" we cannot help but transcending our "wonder" beyond the parameters of thematic constraints.  We are constantly learning to observe strange phenomena, investigate and interpret those phenomena.  We are building up MOMENTUM for next year's Science Fair…(to make up for being a bit too slack this year)
Senior School
OUR MANU KURA

We salute our manu kura.  We acknowledge their mana.  We applaud their commitment.  We commend their mahi…
Tautoko mai, tautoko mai, tautoko mai…
SENIOR MATHEMATICS
The annual Broadwood Area School MCAT examination will be written on Tuesday 18 September 2018.  MCAT is an acronym that stands for Mathematics Common Assessment Task.  This examination assesses the problem-solving capabilities of students.  Mathematics has a finite set of rules and principals that can be applied as tools to solve problems infinitely.  Mathematics has been the purest and the most important subject at schools for millennia.  Like with most things in Life, the whakatauki, "Practice Makes Perfect" applies to Mathematics as well.  All the internal standards in the Mathematics programme provide a gradual preparation for the MCAT examination.  The commonality of this assessment is that all Level 1 students across New Zealand will be writing the same Mathematics paper.  Accreditation in the MCAT, achievement standard 91027, is a valuable taonga in the academic kete of any student.  Kia kaha to all those who are in their final stages of revision.  Remember that the Mathematics Department is always ready to revise mathematical concepts with you.
Broadwood Interest In QRC
QRC stands for Queenstown Resort Centre.  Every year this institution recruits students from all over New Zealand to work in our blooming tourism industry.  Tourism is big in New Zealand and people all over the world  love to come and spend their money here.  Needless to say, this is very good for our economy and it creates multiple job opportunities for New Zealanders.   Last year there were a big QRC intake of BAS students.  This year the intake from our kura promises to be even bigger.  The following students aspire to apply to complete the 21 month QRC course in Pahia: Sharon, Charlotte, Te Rangimarie, Alexandra, Harmonie, Cannon, and James.  Successful completion of this course results in a National Diploma in Tourism and Hospitality.   With this qualification done and dusted, students can choose to specialise and who knows, even end up working in Queenstown itself.
Sports News
North Hokianga Cross Country
The annual North Hokianga Primary Schools Cross Country event was held on the 17th of August on the picturesque and challenging West Coast Matihetihe Beach.
Eager to participate and compete, our students enjoyed the opportunity to race against their friends and whanau from our neighbouring schools, i.e. Kohukohu, Panguru, Hata Maria and Matihetihe. Our runners pushed themselves to complete the 3.5 km course in blustery conditions, while parents and supporters enjoyed seafood chowder and juicy hangi.
Manganuiowae students who received placings were: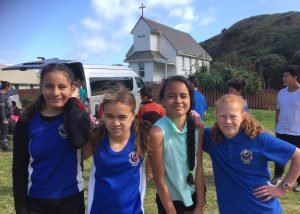 5 Year old girls; Emma Little – 3rd
8 Year old girls; Alexandrina Fenton – 3rd
10 Year old girls; Zaria Murray – 1st
11 Year old girls; Sarah Pattullo-Knopp – 3rd
7 Year old boys; Lucas Fenton – 2nd
9 Year old boys; Joel Little – 2nd
10 Year old boys; Lance Morgan – 1st
10 Year old boys; Sonny-John Grbich – 2nd
11 Year old boys; Ashley-Jo Pomare-Heta – 1st
11 Year old boys; Jordan Chapman – 3rd
Place-getters 8 Years and over will head to Peria on the 7th of September to represent our school in the annual Far North Cross Country event.  Much thanks go to Whaea Jasmine, Whaea Ngaire, Whaea Gay and Harmonie who stood in the cold as marshals to ensure that our tamariki were safe. Our staff would also like to extend thanks to whanau who helped transport students to Matihetihe.
General School-wide Notices
Swap Social Media for Adventure…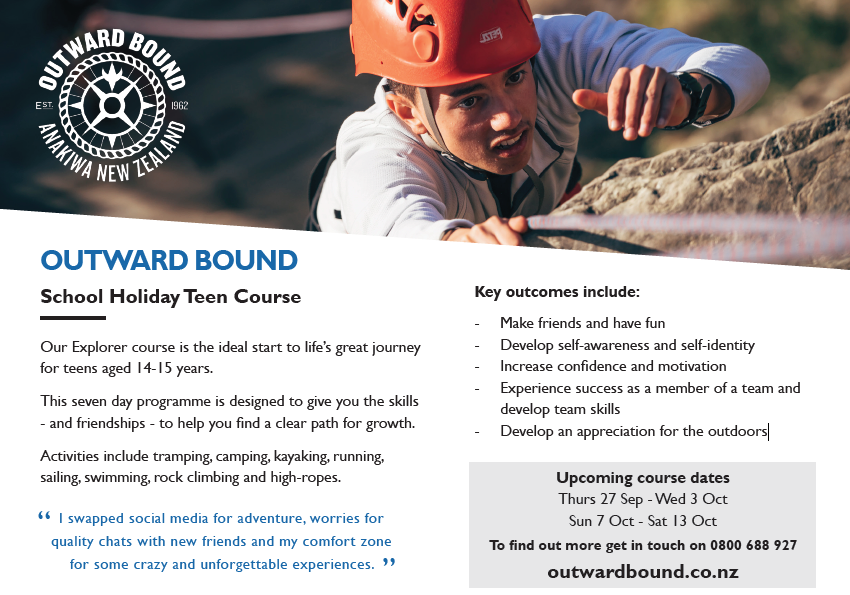 FREE CATS
We have a few cats here at Broadwood Area School that have overstayed their welcome.  Do not get us wrong – we love cats, but we do not like what they can do to our precious bird life.  We have started a programme in which the cats will be gradually eliminated from the school.  We are looking at the most humane methods of getting rid of them.
BREAKFAST WHANAUNGATANGA
We are so fortunate to have Whaea Jessica to prepare an amazing spread of breakfast kai every morning.  The kai is so good that tamariki skip breakfast at home to share a whanaungatanga kai with their mates to catch up with the latest whakaaro.  In fact the teachers have started to join in.  The kai includes nice Wheat Bix with warm or cold milk, baked beans on toast, fruit galore, lunch bars, Milo with heaps of milk, peanut butter and jelly sandwiches and the traditional Marmite on the side.
NOTICE
Herekino School Night Food Market
Friday 21 September 5:30 pm – 7:30 pm
Curries, Chop Suey, Salads, Pork and Lamb Spit Rolls, Seafood, Desserts & More
Te Manawa Tahi Hub in Broadwood
This Tuesday 11 September 2018, Broadwood Community Hall, 9:30 am – 2:30 pm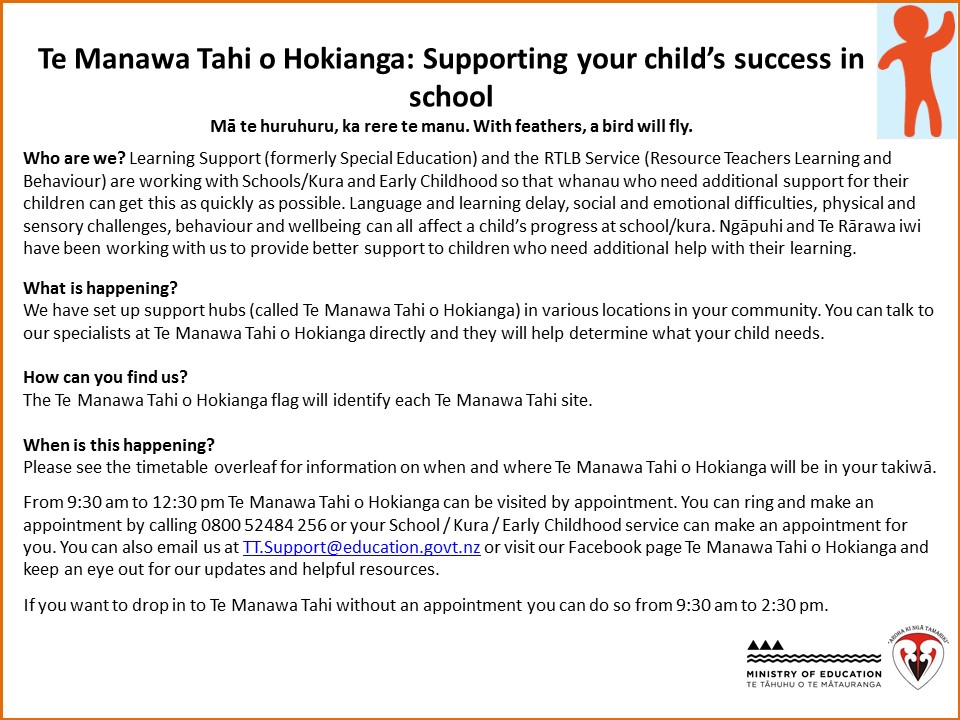 POWHIRI FOR OUR NEW LOCAL POLICEMAN
There will be a powhiri to welcome our new police officer, Cory Lowe, who was recently deployed to the Hokianga Area.
The powhiri will be on Saturday, 22 September 2018 at Tautahihi Marae.
The proceedings will start at 10 am and will conclude with a shared lunch.
Everybody is welcome to attend.
Nau mai , Haere mai, Tautoko mai.
MAHURU MAAORI – September Maori Challenge
TE WIKI O TE REO MAORI
Here are 2 free APPS and a website that may help us with our te reo maori, Kia a kaha whanau ki te korero maori ahakoa te aha, ahakoa te iti, karawhuia kia rere.
KUPU O TE RĀ – go to the website, register with an email account and then they will send you a kupu hou ia ra, ia ra.
KUPU – download from the APP STORE, take a photo and it will translate into maori for you.
PEPEHA – download from the APP STORE, create your very own pepeha.