Principal's Mihi
Ko te mihi tuatahi ki to tatou matua nui i rangi, nana te timatatanga, nana te whakaotinga o nga mea katoa,
Ki a tatou tini mate, a tatou tini aitua, puta noa i nga marae maha,haere, haere, haere atu ra,
Me mihi hoki ki nga hunga ora, e noho ora mai tena koutou, tena koutou, tena koutou katoa
Me mihi o te wa ki a tatou katoa.
This is our first newsletter out this term and already we have been very busy. Lots of in school training and professional development happening for our teachers and also for our Board of Trustees. Students have been busy in their classes, senior students have been out on Gateway Courses and Basketball continues for our students from Yr 7-13.
Today our junior school Yr0-8 took to the fields and roads in Mitimiti with the North Hokianga Cross Country, we look forward to sharing the results in the next newsletter.
Date
Event
Week 5
20/8/18
PLD – Teachers
21/8/18
Netball Snr Girls Whangarei, NZSTA in school
22/8/18
Training for the BOT with NZSTA, PLD – Teachers
23/8/18
Basketball Yr 7-8 Girls and Boys
23/8/18 – 24/8/18
Chainsaw Course Gateway 2 days
Week 6
27/8/18
Robopa (Kerikeri) 2 days, BOT Meeting, PLD- Teachers
28/8/18
SAF Meeting with Senior Leaders
29/8/18
Science Fair (Kerikeri)
30/8/18
Yr 7&8 Netball (Kerikeri)
31/8/18
Hauraki Challenge Cup: BAS vs Abundant Life Area School in Kaitaia
Junior School
RoboPā
During Week 1 the Year 6-8 students had their second opportunity to take part in the Robotics programme "RoboPā".   For 2 consecutive days our students worked on designing, building and learning to drive their robots. Culminating with a "Local Scrimmage".  Here teams competed to gain the highest scores during a scrimmage, which involved communication, teamwork, strategy and driving skills.
Spurred on by the Junior school and family members who came to support, two top teams were identified.  These students will now go forth and represent our school at the Taitokerau Regional Scrimmage on the 20-21 September.  The members of the winning team were Phaige, Taipari and Monique.  The members of the team who got second place, were Zaria, Anataia and Tia.  Year 6-8 would like to thank Te Whare Wānanga o Awanuiārangi, for travelling from Whakatane who delivered this programme to us free of charge. We would also like to thank Whaea Ngaire and Whaea Eyez for organizing a shared lunch for us to share with our whanau who came to support.
Library News
Reading-Log-Sheets have been handed out to the Year 1-8 tamariki. As they complete the reading of any book or article, the title of that book or article must be entered and signed off by a teacher or parent. When a Reading-Log-Sheet is filled, it should be given to me (Whaea Ngaire) and that student will receive 50 house points and the choice of a "Caught-Being-Good" book to keep. Every other sheet, filled out, will earn more 50 house points. Encourage your tamariki to read every day!
Mainfreight Kaitaia are the main sponsors of the Duffy-Book-Prizes that our tamariki receive throughout the year.  Other book prizes include "Duffy-Theatre-Books" and the "Caught-Being-Good-Books". At the moment our Junior classes have been making "Thank-You-Cards" to show our appreciation to Mainfreight Kaitaia. The Mainfreight sponsorship amounts to at least $55 per child.
Ngaire Morey (Librarian)
ABSENTEEISM AND ATTENDANCE FOCUS
Student attendance contributes greatly to student achievement. Students with high absenteeism are less likely to succeed in their learning. If a student misses five school days each term, or one day a fortnight, they will miss the equivalent of one year of school over 10 years. As the level of absenteeism grows, the difficulty of re-engaging in learning can grow exponentially.  All roleplayers (students, parents and teachers) should constantly bear in mind the consequences of absenteeism and attendance.
Middle School
We have started to encourage our tamariki to write articles for our newsletter.  Writing should be liberated, creative and it should always be a journey to improve general literacy skills.  Here are a two holiday reflections of some of our Year 9& 10 students to demonstrate the fine line between literal reality and creative, figurative, fantasy.
"Here are some things I did in the Holidays"
On the first weekend of the holiday we went to Auckland. We drove down in my Aunty's car. It took 4 hours and we arrived at East Tamaki in the afternoon. I was staying with my uncle and my brothers for the whole holidays.
In the first week my uncle and I went to Xtreme entertainment. There are a lot of arcade games there. For example there was a basketball game and I scored 39 points. It was easy as.
Also on the start of the week we visited my Aunty and cousins at Takanini. We all had dinner after we had said karakia. Then the boys had game of basketball and we watched it. It was a funny game. Before that though I met my two nephews, who are both 5 months old. I stayed there the whole holidays but I was glad when we got back home.
Anyah
What I Did in the Holidays     

 
The most interesting thing I did in the holidays was… me, Barry and Beyonce flew over to my condo in the Bahamas where we met Drake and made a new song called "in my feelings". After making a couple million dollars from writing the song and starting the dance challenge, I shouted Beyonce, Barry, and Drake a dinner at the Maxim's of Paris restaurant. We also went on the luge in Rotorua for fun.
After that Barry thought it would be a good idea to go for a swim because apparently he likes swimming in the water. So we found a swimming hole and saw xxxtentacion but he ended up floating down the river, went off a waterfall and died. We all felt it would be a good thing to do if we attended our friend's funeral, and then me, Barry, Beyonce, and Drake did this hearty as haka for him and ended up cracking another million bucks, but I had to leave, so I said bye and left to my Eiffel tower and chilled at the top in my secret room for the rest of my holidays. I got bored so me, Barry and my hot as girlfriend went down to the nearest theatre to watch the "Incredibles 2" and that was my whole holidays.
Ngatai Pirini-Maika
Ko te kai a te manu ko te miro nōnā te ngahere, ko te kai a te rangatira ko te mātauranga nōnā te ao"
Tēnā tātou te whānau whānui, he mihi nui ki a koutou katoa i runga i ngā piki me ngā heke o te wā. He tino harikoa ki te tuku kōrero atu ki a koutou i tēnei wahanga tuatoru o te tau. He maha ngā mahi me ngā kaupapa e mahi nei ā tātou tamariki mokopuna puta noa i te kura. Nā reira,  he wā pai tēnei ki te whakamōhio, ā , ki te whakanui hoki i ā tātou tamariki mō ēnei momo tūāhuatanga papai e haere ake nei ki roto i tō tātou kura.
Tau 9-10 Te Reo – Ko tā mātou kaupapa o te wāhanga nei ko Tāne Mahuta. E ako ana tātou ki te tāutu me te whakaingoatia ngā rākau tūturu o Aotearoa. He rawe ngā mōhiotanga ā ngā tamariki e pā ana ki tēnei kaupapa tino whakahirahira. Mohio pai rātou ki ngā tikanga o te karakia, te tiaki me te whakapai i ā mātou ngahere puta noa i te ao. E aro kau ana mātou ki te whakaora me te tiaki pai i tō tātou ngahere hei oranga mō ngā whakatupuranga e heke mai nei. Hei te wiki tuawaru ka haere mātou ki te titiro ki a Tāne Mahuta me te arohaehae he aha te take i pā mai te DIE BACK disease ki a ia?, ā, he aha pea hoki ētahi mahi hei whakarite/whakahaere rānei ki te whakakore i tēnei momo mauiuitanga.
MUSIC AT BROADWOOD AREA SCHOOL
Music is alive and well at Broadwood Area school.  We have produced brilliant bands in the past and there are new bands in the making.  Whakaaro Tahi Trust is still our sponsor with Matua Tups being our exceptional Music teacher.  The main focus for this year has been learning to play the ukulele and drums. The ukulele is a great musical instrument to start with, because it is easy to play and relatively cheap to buy.  Most of our tamariki were able to play the ukulele after only a few lessons and we are just jamming it with all kinds of waiata. If there is a ukulele at home, start jamming. We encourage whanau to join in with our musical journey, because there is nothing like music to build whanaungatanga.
Senior School
SCHOOL FEES TO BE PAID BY THE END OF AUGUST 2018
The NZQA school fees for some students can be as little as $15 per student.  In most cases students only have to pay $20.  A community services card brings the NZQA fees right down.  When there are more than one senior student per whanau, the discount is bigger.  However, any particular whanau has to apply for a NZQA fees discount.  Matua Carl has made this financial assistance application process very easy.  Whanau just have to provide their community services card number (not the client number) and the discount will be confirmed by NZQA.  Payments should be done at the Broadwood Area School entrance desk (with Whaea Men) before 31 August 2018.  If whanau foresee any possible late payments, they must inform Whaea Men or Matua Carl before 31 August 2018, to prevent an additional $50 late-payment penalty from NZQA.
MANUKURA
Year 13 School leaders
The role of the Manukura students is to ensure they are responsible role models to other students within the Kura, strive to be the best they can be and to portray the values of the school. The term is going extremely fast and their time at school is dwindling away. All of them acknowledge they need to strive to achieve their academic credits, plan their career pathway (for some, enrolling into University), study for the external examinations, balance their sporting events as well as plan for the end of year school ball. We wish them luck in their final remaining weeks of their school life.
ALMOST TIME TO LEAVE…
Growing up is an inevitable process.  One minute our tamariki are small, the next they are ready to leave school and take on the world.  The best we can do is to provide all the opportunities of learning, during their schooling years, to ensure that they will be ready for the big world out there.  Charlotte (third from the left) is planning to follow a career with "Elite Beauty School". Elite Beauty School provides a service to the rich and famous, like Hollywood movie stars, to stay young and beautiful.  There are heaps of money to be made in this trade. Sharon (second from the left) is planning to go to WINTEC to do a bachelor degree in Sport and Exercise Science.  Te Rangimarie (far left) and Harmonie (far right) decided to enter a career in tourism with QRC.  New Zealand is a beautiful country and tourists are streaming into New Zealand in droves.
NCEA Te Reo Māori

 
E ako ana ngā tau tekau mā tahi, tekau mā rua me te tekau mā toru ki te waihanga tuhinga. Ko ngā tau tekau mā tahi e ako ana ki te tuhi tohutohu hei tauira; Rēhipi kai (pata heihei, hūhī aha atu, aha atu). Ko tā rātou kaupapa tuarua ko te tuhi reta. He reta ōpaki, he reta okawa rānei. Ko tētahi kaupapa pai i puta ko te tuhi reta ki te Pirimia o Aotearoa a Jacinda Adern me te tono ki a ia ki te whakakore i te 1080. Pai mutunga ngā kōrero i me ngā whakaaro i puta. Ko ngā tau tekau mā rua e anga ana rātou ki te tuhi kōrero paki. I pānui au te kōrero a John Alec Grbich ka tukuna ki te pānui o te kura hei te wā ka rite. He tino pai! Ka pai e tama. Ka mutu, ko nga tau tekau mā toru e tuhi kōrero ana rātou mō tētahi kaupapa e pēhi nei i te iwi Māori whānui. He hohonu ngā whakaaro, ā, me rangahau rātou i ngā kōrero kia tika tā rātou e tuhi ana. Ko tāku noa kia kaha, kia māia, kia whakatairangatia tō tātou nei reo i te ao, i te pō.
Tunu Kai/Hospitality
Over the past three weeks Level 1 students have been working on their Finger food Assessment task and activities. It was an interesting lesson observing each group carry out their task with very little instruction. The end result was not very good the first time around however, the following lesson we were lucky enough to have Denise Proctor their to guide and share her expertise in the kitchen which really made the difference and all students passed and the results were to a high standard.
Thank you Aunty Denise your expertise were beneficial to our students work and your time very much appreciated by all. Ngā mihi.
Level 3 students have chosen a Māori Tourism assessment this term where they have to recite traditional karakia and explain the meaning and purpose of their chosen karakia. This task has been enlightening and has broaden their knowledge about the different opportunities about where the hospitality industry can take you in their future career pathway. Māori tourism is a very popular career in New Zealand and I encourage our tauira to explore what is already in our own backyard as they already have the advantage being Māori.
Sports News
Northland Secondary Schools Basketball Boys
Two teams of boys travelled to Whangarei last week to compete in the Northland Secondary Schools Basketball Tournament. They were placed into Division 2 with 16 other teams from around the Northland Region. Team A was made up of Senior, experienced players who fought hard in all their games and were up against some very talented, tall and well drilled opponents. However Team A won two out of their four games.  The following boys should be proud of their efforts and contributions to the sport (Paora Proctor, Cannon Barry, Wiremu Emery, William Isaacs, Daniel Haturini, Logan Williams).
Team B consisted of a younger, less experienced team who were up against opponents twice their height and posture.
A huge mihi to the Year 9 and 10 Boys who stepped up to the plate and were willing to go up in age category to make two senior teams.
I Would also like to acknowledge the two senior boys who played in their team and lead by example. Congratulations to the following boys (Hone Adams (Y12), John Alec Grbich (Y12), Johnny Edmonds-Chapman (Y10), Kazius Williams (Y10), Ngataiawa Maika-Pirini (Y9).
Northland Secondary Schools Basketball Girls
Last week the Senior Girls travelled to Whangarei to compete in the Northland Secondary Schools Basketball. They were limited in numbers and only had 5 girls, leaving them with no reserves. However, they won two games, lost two games and drew one. This was a pleasing result and I admire the girls commitment to their trainings and self-management skills.
Special mention to Sharon Edmonds Chapman for leading the girls in these sports events.
Congratulations to the following students (Sharon Edmonds Chapman, Brodie-Lee Barber, Arianna Adams, Anyah Tito and Tia Roberts).
KAITAIA BASKETBALL ASSOCIATION
WINTER LEAGUE FINALS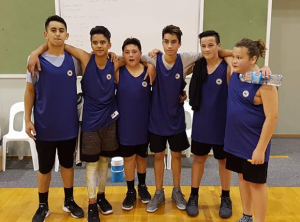 Last Friday night 10th August Ngataiawa Pirini-Maika and Kazius Williams played for the Celtics in the finals against Kaitaia College at Te Rangianiwaniwa Gymnasium. It was a very tough game for the Celtics (a team who just plays once a week together) to fight for first place against a well trained and skilled side. As a parent I would like to acknowledge these boys commitment, enthusiasm, participation, sportsmanship and love for the game. A very proud mama/kaiako.  A special acknowledgement goes out to Kazius Williams who was nominated to play for the Celtics.  Congradulations! Ka mau kē te wehi e tama!  The new miniball league will start on the 31st of August and Ngatai and Kazius will be hitting the court once again.   "If you don't fall then how are you going to know what getting up is like" (Stephen Curry)
General School-wide Notices
Meeting at the Pawarenga Community Trust:
I would like to thank all the whanau in Pawarenga who came to our hui on Monday night to talk about the school bus run, the conditions of the roads and student behaviour. It was a great turn out and lots of good korero. He mihi nui ki a Matua Tau Adams our bus driver and Adelaide  for coming along and sharing their korero with the whanau. Mauri Ora!