Principal's Mihi
E nga mana, e nga reo, e nga whanau o to tatou Kura Takiwa O Manganuiowae
Tena Koutou, tena koutou, tena koutou.
Ka nui te mihi ki te whanau o to tatou tumuaki, ko Whaea Pani, ko tona hoa rangitira ko Matua Dixie, ko ta raua tamahine ko Darlene hoki, aroha mai i a matou o te kura o Manganuiowae.
Ka mihi hoki ki te whanau Herbert i te wehenga atu o to tatou whaea rongonui. kua mutu te mamaetanga, a okioki ra e te whaea i nga tuupuna kua haere ki mua i a matou.
Ki nga mate o te wa, nga matua me nga whaea, a, ko te kohine hoki o te Hokianga kua wehe atu ki te kaainga tuturu o te tangata.
Hoki atu ra i roto i nga tini roimata me te aroha o matou e noho mai nei
Hoki atu ra ki te manaaki o te Atua i runga rawa, ki te whaea o te po hoki
No reira, moe mai, moe mai, moe mai ra.
Apiti hono, tatai hono, ko te hunga mate ki te hunga mate
Apiti hono, tatai hono, ko te hunga ora ki te hunga ora
Tena koutou, tena koutou, tena koutou katoa.
Calendar Events

Please check out our school website calendar for more details of events coming up. www.broadwood.school.nz
WEEK 1 TERM 4:
Monday 12th October  – TERM 4 starts
Thursday 15th October – Mike King Visit
Friday 16th October – Troy Kingi – Music Tutor visits, SCHOOL BALL
 Junior School Yr 1-8 News – written by Whaea Catherine
Firstly our acknowledgements to our tumuaki, Whaea Pani, on the recent loss of her beautiful mokopuna. We express our sincere aroha to her and her family at this time.
NOHO MARAE.
Last month the Year 1-8 classes enjoyed a wonderful two day Noho at Ohaki Marae. We had heaps of fun exploring and learning about our local area, practising our tikanga and using our Reo. We would like to thank the tangata whenua of Ohaki Marae, for this opportunity. When we returned to school, many students produced iMovies of their experience. some of these can be viewed through youtube, if you google iMovie Pawarenga.
FAR NORTH CROSS COUNTRY.
36 Primary schools gathered at Peria on Friday the 4th September, for the Far North Cross Country Champs. We took a team of 10 students, who were all placed at the North Hokianga  event, held in Mitimiti. Our results were very pleasing and are as follows.
1st – Jordan Chapman – 8 year old boys
1st – Zaria Murray – 8 year old girls
1st – Jazmine Murray – 9 year old girls
4th – Crystal Riiwhi – 8 year old girls
8th – Chance Riiwhi – 9 year old boys
8th – Ariana Adams – 12 year old boys
Nancy- Paige, Brodie-Lee, Jessica and Neveah also participated credibly on the day, but were outside of the top 10 placegetters.
NORTHLAND CROSS COUNTRY.
The 6 students who placed in the top 10 in Peria  (Jordan, Zaria, Jazmine, Crystal, Chance and Ariana), then travelled to Dargaville last Thursday for the Northland Cross Country event. After a long drive, students did their best against a fiercely competitive group of runners. Those who went last year, all improved their placings, and for the first time we had runners come home in the top 10.
Zaria placed 3rd in the 8 year old girls and Jazmine placed 6th in the 10 year old girls. Crystal came in 11th, Jordan and Ariana 15th in their respective races. 
We are steadily making our way towards the front of the field.
Congratulations to all of the runners who participated in the various cross country events over this term.
Duffy Book Presenter.
On the 22nd September, Gavin Hill came and presented the Junior block with 2 Duffy Books.
KAPA AND URA
The Junior block presented it's first performance of "Te Takinga Mai ki Aotearoa" at a concert in the school gym on Wednesday. A wonderful crowd including Mangamuka, Primary, Kohukohu Primary, our Senior students and many whanau attended, and were entertained by a talented group of performers. Many thanks to Whaea Huri-Mae, Matua Henare and especially Whaea Nancy for the huge amounts of time they put into preparing our students for this event.
PET DAY.
The Junior block will hold its 3rd annual pet day on Friday the 25th, weather permitting. (Photos to follow in the next edition). 
Middle School Yr 9 & 10 News
Te Hiku Hauora Wananga Yr 10 Boys
On Monday our Year 10 Boys travelled to Manukau Marae to complete the kaupapa they started with Matua Ra. The highlight of the wananga was learning how to weave and learning the taiaha with Matua Wiremu Sarich. They were presented with a certificate of achievement a big gift basket and a beautiful hangi lunch. Nga mihi nui ki nga kaiwhakahaere – te roopu Te Hiku Hauora and all the whanau that came to support the kaupapa.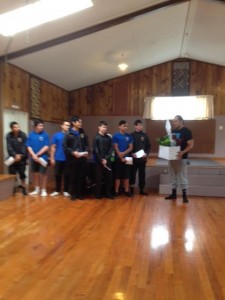 MIKE KING VISIT 15th OCTOBER
Mike King (Comedian) will come to our school for a short visit on Thursday 15th October. Mike has been speaking to audiences about Mental Health issues. We look forward to his visit.
Achieving Success In the Mid School: 
Congratulations to our mid school students and their positive achievements across the term:
– Achievement in CARVING
– Achievement in MUSIC
-Achievement in Fundraising across the term
-Achievement in Sporting events – basketball, rugby, netball
-Achievement in Academic Results across the curriculum
-Achievement in the Science Fair
Year 9 Pastoral Class
This term has seen our students participate in a variety of EOTC ventures from carving with Matua Eric Wihongi, music with Matua Tups, basketball with Matua George and a world champion unicyclist, Chris Huriwai, sharing his journey to the worlds best and teaching our students how concentration and sheer determination can get you anywhere. The Defence Forces held an information session which was well received by our Y9 students. All this was accomplished in the meanest of weather.
We said farewell to Kimiora and Nehemaea Miller who returned to Wellington mid term. We wish them both well for the future and hope their time spent with us at Manganuiowae will be remembered with aroha.
To all our students, have a fun filled holiday with your whanau. Be safe and look after yourselves. Come back next term refreshed and ready to buckle down to school work.
Ma te Matua Nui I te Rangi koutou katoa e manaaki e tiaki I nga wa katoa.
Steven's News
Steven has been working really hard this year as  he usually does and he has gained 15 credits for NZQA. Well done Steven.
Senior School Yr 11+ News
 Papa Taiao Course
Many of our Papa Taiao students show enthusiasm and to date all students have gained a total of 23 NCEA credits, particularly in good demonstration of knowledge of possum biology and environmental impact as a pest species. They are still completing their credits for the care of nursery crops. Many thanks to our tutors Liz Haines, Jasmine Pirini, and Shaun Gifford. for the hard work they do working for our students. A special mention to Alex Meredith, Daniel Kaponga, Papillon Wharton-Toki and Hone Proctor who have done some great work in both possum and crop care.
NCEA CREDITS IN YEAR 9
Is it possible to get NCEA credits in Year 9? Of course it is possible! John-Alec Gerbic is living proof of that. He achieved six credits, at excellence level, in a NCEA Level 1 Music achievement standard.John-Alec comes from a musical family and he is exposed to music all the time. This is proof that most of our learning can take place at home with the loving encouragement of our parents. Matua Tups is our music teacher and we would like to acknowledge him as well for all his hard work. John-Alec had the option of banking his six Music credits for 2015 – or to wait until next year and bank it along with all the additional credits he will be achieving for next year. Banking the credits this year meant that he had to pay $76.70 to receive his results. Banking the six credits next year, will mean that he will still only have to pay $76.70 for the six credits of 2015 plus the many more credits he will be achieving next year as a Year 10 student in 2016. I have advised John-Alec to take the second option.
Recently John-Alec also won a bronze- award at the Regional Science Fair in Kerikeri. One of the judges asked John-Alec if he knew that his science fair project is worth four NCEA L1-credits. I knew that all the time and will be banking those credits for John-Alec next year as well.
Matua Carl
SCHOOL BALL  WEEK 1 TERM 4 16th OCTOBER 2015
Sports
The Ling Cup Challenge and netball games that had been planned for Thursday 4th September  against abundant life was cancelled due to the arrogant,deliberately negative actions of several senior  students.
NGA HARA O ETAHI AKONGA WHAKAHIHI
On Tuesday the 22nd September members of DOC , the  Northland regional council and Te Runanga o Te Rarawa  came to inform and discuss with students the impact of the proposed 1080 drop onto the Warawara forest . Several students at this school have hapu affiliations to Te Uri o Tai some with  Ngai Tupoto, and others with Ngati Manawa. All of these hapu have a vested interest in the Warawara forest and many of our students are members  of the Papa Taiao environmental education programme within our school. Henare Chapman from Mangataipa an ex student of the school was a presenter. The presentation began in the wharehui at approximately 10.30am.
Some students decided that they knew more than the presenters and that they would not attend the presentation. When the Papa Taiao staff entered the wharehui the boys did not follow but elected to  return to the Work shed.
When they arrived at the workshed other students who had not been at school arrived at the workshed via the cattleyard road.
The work shed houses the school pump shed, this was broken into, students had bought petrol with the express intention of "huffing"-this is substance abuse, a potentially very dangerous activity, the petrol was spilled onto the floor of the shed and boys packed in to inhale the fumes. The fuel was then set alight.Fortunately one of the boys beat and smothered the flames with his jersey and extinguished the fire.
Panic ensued and many of the boys raced up to to the senior classroom. A teacher who was oblivious to their immediate past actions retained them in class.
Due to this SERIOUS the game was cancelled.
General Schoolwide Notices.
TROY KINGI  COMING TO SCHOOL TERM 4
Troy Kingi  is 28 year old a Musician from New Zealand. He is a native Maori of Te Arawa, Nga Puhi and Te Whanau-a-Apanui descent. Raised in Rotorua, Te Kaha and Kerikeri in the North Island of New Zealand, Troy took to music at a very young age.  During his Time at Te Aute College, Troy took a particular interest in the guitar. Since then he has grown to be a master of both electric and acoustic guitars; drums, bass, keys and countless other instruments. Troy seems to have developed a musical knack that allows him to easily learn instruments and songs by ear.
It is this musical literacy that allowed him to begin composing his own songs in the early 2000s. He attended Kerikeri High School in the Bay of Islands of New Zealand. There he formed the band Toll House with three friends. The band gained fame in the district after competing and winning at the Smoke free rock quest. The band gradually grew apart after Troy left high school, but they keep in contact. Troy also spent time at the Mainz music and audio institute where he honed his musical skills and made more musical contacts.
Upon his return to Kerikeri, Troy fronted and formed several bands among which were Mongolian Deathworm, Kingkachoo, Troy Kingi and the Tigers and most recently Full Moon Street. Having gone through these names, Troy and his core collaborators came up with their latest brainchild: Typhoon Fools. It was during this period (2010-2011) That Troy and his band gained the most recognition. Having risen to Facebook fame with hits such as True Love and Blue Bullet, Troy enjoyed having his music heard by many.
In early 2012, Troy had been spotted by producers of an upcoming New Zealand film Mt Zion. He attended an audition and the director was instantly struck by Troy's unique personality and one in a million musical talent. Troy was cast to play "Hone" in the film. Mt Zion was shot over 6 weeks in Pukekohe, Auckland, New Zealand. He starred alongside stars like Stan Walker and Temuera Morrison. Troy made several television appearances promoting the film. Astar from TVNZ's Good Morning travelled to Kerikeri to interview him and he also appeared on I AM TV.
Also in 2012, Troy's anti-gambling song Talk To Me was selected as the judges choice in the Choice Not Chance campaign. He appeared on TVNZ's Good Morning promoting the song. Troy has also worked with "The Raid Movement", a Northland based organisation fighting against teen suicide. The song Make a Change proved to be successful and appeared on TVNZ's current affairs show Close Up.
Troy currently resides in the Bay of Islands of New Zealand with his wife and three children. When not teaching music at the local school, Troy can be found diving in the tropical Northland waters, performing for international guests at Kauri Cliffs Resort or with family and friends.
TERM 4 STARTS BACK 12 OCTOBER