2018 Term 1 – Newsletter 1 
E nga mana, e nga reo, e nga rau rangatira ma tena koutou katoa,
ko te mea tuatahi maku e mihi ki te runga rawa, nana te timatanga me te whakaotinga o nga mea katoa, ki nga mate o ia marae puta noa haere, haere, haere atu ra, ki nga kanohi ora, te whanau o Manganuiowae, tena koutou, tena koutou, tena koutou katoa.
Firstly, i would like to acknowledge and thank the Board of Trustees for allowing me to step up as the new Principal of this beautiful school. I have been involved in this school for almost 20 years, fifteen years as a classroom teacher, and have formed a good relationship with whanau, staff and the community. Three of my sons have come through this school and i have one more son Taipari coming through and is now in Year 7 this year. I have had some wonderful experiences here and meet some wonderful teachers along my journey and hope to continue on and do the best i can for the students, whanau and community of Broadwood. A special thanks to Whaea Pani for all her support and guidance along the way. Ka nui te mihi ki a koe Whaea.
With that being said, i would like to welcome on board Whaea Harriet Savage. She will be joining us for the year in the junior year 4-6 class. Whaea Harriet is an experienced teacher and has come from Finlayson Park School in Auckland. Her mokopuna Rawson and Sonny-Jon have also come along to our school. Whaea Esther is back to fill in for Matua Henare while he is on sick leave, and Matua Phil Baptiste is also joining us for Term 1 in the Material Tech/Woodwork Room.
We have had many new enrolments over the past week and i would like to welcome them all to our kura. It is great to see many of our students return this year and we farewell those who have left the district. Nga mihi hoki ki nga kaiako, nga kaimahi katoa o te kura nei, nau mai, hoki mai ki tenei tau hou. This year has already come with lots of new changes and I look forward to a great year ahead.
No reira ka nui te mihi ki a koutou katoa
Na Whaea Danelle Smith
We Salute A Legend: Whaea Pani's retirement has left a void on a multi-dimensional level at our school.  However, we salute our living legend who resides just around the corner. Whaea Pani's heart will always be at Takiwa O Manganuiowae and we have to make her proud as we take up the reins in honour of her legacy.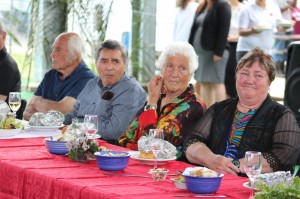 2018  Principal – Whaea Danelle Smith –   [email protected]
Deputy Principal: (to be appointed Term 2)
Senior Leaders: 
Renee Sauer – Year 11+
Carl Quickfall – Year 9-10
Eileen Rankin Porter – Yr 0-8
Whaea Eileen Rankin Porter: Yr0-3
Whaea Harriet Savage: Yr4-6
Whaea Esther Heka: Yr 7-8
Whaea Gaye Semenoff: Support Teacher
Matua Joseph Kunnil Yr -9 Pastoral
Matua Bevan Watson – Yr10   Pastoral
Whaea Rewa Pirini- Yr11  Pastoral Teacher & Academic Counsellor
Matua Carl Quickfall – Yr 12 Pastoral Teacher & Academic Counsellor
Whaea Renee Sauer – Yr13  Pastoral Teacher & Academic Counsellor
Matua Phil Baptiste – Yr 7-8, Material Technology
SPECIALIST SUBJECT TEACHERS:
English: Matua Bevan Watson
Science, Biology; Chemistry; Physics; Lead teacher for Papa Taiao: Matua Carl Quickfall
Te Reo Maori me ona Tikanga: Whaea Rewa Pirini
Technologies ICT, Computing: Whaea Esther Heka
Food Technology: Whaea Rewa Pirini
Physical Education: Whaea Renee Sauer
Mathematics: Matua Joseph Kunnil
Material Technology; Construction: Matua Phil Baptiste
Careers: Whaea Emma Davis
Music Teacher: Matua Tups Ellis supported by Sharyn Van Heerden
Papa Taiao Team:   Matua Marty Taylor supported by  Matua Aaron McCloy
TEACHER AIDES:
Jessica Waipouri
Ngaire Morey
Gay Semenoff
GATEWAY/STAR/SPORTS CO-ORDINATOR :
CAREER ADVISOR:
Time Changes for School 2018
This year we have moved from a 6 period day to a 5 period day. We will have 2 40minute breaks across the day. After the first week everyone is enjoying the change.
| | |
| --- | --- |
| 8:40-8:50am |  Form Class-Pastoral Care |
| 8:50-9:50am | Period 1 |
| 9:50-10:50am | Period 2 |
| 10:50-11:30am | First Break (40minutes) |
| 11:30-12.30pm | Period 3 |
| 12:30-1:30pm | Period 4 |
| 1:30-2:10pm | Second Break (40minutes) |
| 2:10-2:20pm | Form Time – Pastoral Care |
| 2:20-3:10pm | Period 5 |
| 3:10pm | End of School – Buses |
Uniform & Stationery Lists:
By now all students should have received a uniform and stationery list for 2018. It is very important to start the year with the basic requirements for learning.  Please check our school's website for this year's requirements or inquire at the main office.
School Fees:
The school fee covers Technology-; Material- ; Food- and Internet access for the year. Please pay at the office.
Year 1-6: $20.00
Year 7-13: $30.00
NCEA Fees $20.00 – $76.70 (subsidised for community services card holders or for whanau with more than one child at senior school)
Junior School
School Uniform introduced for the Junior School 1-6 – I am very excited to see that our Junior School has started to wear school uniform. After months of discussion and debate with whanau about the pros and cons of having uniform for our juniors, we have finally decided that there has been enough interest to do so this year. Please consult with your child's teacher for any further information. Orders have been placed for junior uniforms which should arrive by next Wednesday.
Riding Bikes to school – Safety first – always wear a helmet
As more local students elect to ride their push bikes to school we must insist that they wear a certified safety helmet. It is important for whanau to ensure that their tamariki has the basic road safety knowledge. The bikes will be locked away during the day for safety and security reasons.
Kio rahi  Tournament for Year 7&8 coming up March 23rd.
Basketball Muster at Te Rangi Aniwaniwa Gym this afternoon for Yr 7-10 students. Whaea Rewa
Middle School
MATERIAL TECHNOLOGY – Kia Ora everyone, My name is Matua Phil and I'm back here at Broadwood for an exciting term of teaching. The school workshop has been dusted down, tools cleaned and sharpened and Term One 2018 sees the students from year 8 to 13 busy and happy creating projects. As you all know, materials are expensive (especially wood) and I would like to make a special appeal to all whanau and friends of the Broadwood school community go donate any pieces of timber (especially native timber) to the school. Please phone the school office and leave your name and number. I can arrange the collection of local unwanted timber, large or small.
Thank You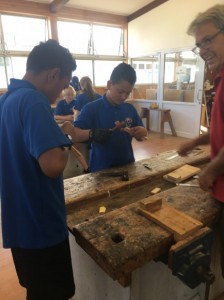 Middle School Science – Just as a house is not a collection of stones and sticks, an education in Science is not a collection of facts and concepts.  Science is the acquisition of processes and skills that feed into an investigative mind.  The most important attribute to be honed in the Science class is the ability to think, to question and to investigate.  The function of the teacher is to present stimulating subject matter upon which students may ponder and probe.
Middle School Visual Art – Broadwood Area School is regarded to be a relatively small school in terms of its student numbers and subsequently school staff.  For this reason teachers have to adopt more responsibilities and tasks.  Matua Carl is our school's Science teacher, but he will be responsible for teaching Visual Arts to the Year 9 and 10 students.  One of the reasons he is deemed qualified for this task, is because of his past experience as a photographer.  Needless to say, his approach to Visual Arts will have a photographic flair to it.  He is encouraging his Visual Art students to study various good photos and to interpret the elements that qualify those photos as being artistic expressions rather than just being mono-dimensional, regurgitated shadows of insignificant reality.
Senior School 
Senior Uniform: It is imperative that your child attends school in full school uniform. The dress code is as follows: a white school T-Shirt; a black school jacket; plain black shorts/pants/skirts for girls (jeans and tights are unacceptable) and plain black shoes/sandals with a back.
Year 13 Manukura Selections:  Manukura play an important role in our kura.  They set examples for our younger students and they have the opportunity to exhibit their leadership qualities.  I wish the Year 13 applicants to be at their best during the selection process.  The process of selecting our manukura this year will consist of students writing a formal letter explaining why they want to be manukura.  Potential manukura need to express what they aspire to achieve, the responsibilities they would like to take on, demonstrate their leadership qualities through cultural, academic and sporting activities. These students will then be asked to explain, to their peers during a whare hui, why they wish to be manukura.  A final interview with the principal will determine their appointment as this year's manukura.
Senior Science: The Senior Science class has become a smorgasbord of multi-level diversity.  However, we have learned that we should not look at the enormity of a task, but to systematically start in one corner and to chip away at the mahi. The question arises, "How can we climb Mount Everest?" upon which the answer is, "One step at a time"  We are proud of three of our senior girls who are aspiring to become nurses.  They will be putting their heads deep into the Level 3 Science books.  Then there is a brilliant engineer in the making who has taken on the very challenging L3 Physics.  We have six students who will be making history with the Papa Taiao Earthcare and the Young Enterprises initiative.  There is a Chemistry specialist in the making who will probably invent something awesome one day.  The Science class will also provide a venue for a few students who will be doing correspondence studies.  All studies are in essence correspondence in nature.  The ability to read, comprehend and to inquire are fundamental requirements in all study practices.
SENIOR MATHEMATICS: As the TiC of the Mathematics Department, I would like to welcome everyone who have committed themselves this year to pursue the purest of subjects, Mathematics.  Mathematics is a subject that often creates negative responses like, "I can't do Maths" ; "I am not a Maths person" or "I hate Maths" among other comments.  As teachers, parents, caregivers and whanau it is essential that we all promote the idea that everyone are capable of comprehending and applying Mathematics in everyday life.  It is important that all of us continually promote the importance of Mathematics to instil the desire to achieve among our tamariki.
Te Reo Māori Wāhanga 1 2018
"Ko te kai a te manu ko te miro nōnā te ngahere,
ko te kai a te rangatira ko te kōrero nōnā te ao"
Tēnā rawa Te Whānau whānui, ko Whaea Rewa tēnei e mihi maioha ana ki a koutou katoa. Kua whakatau pai ngā tauira ki roto i ngā akomanga me ā rātou mahi I ēnei wiki e rua kua pahure ake nei nā reira, he tīmatanga tino pai tērā.
Anei  te rārangi mahi mō Te Reo Māori me te Tunu Kai i tēnei wāhanga tuatahi o te tau hou .
Level 1 – Whakarongo kia mōhio ki te reo o tōna ao (6 credits)
Level 2 – Whakarongo kia mōhio ki te reo o tea o torotoro (6 credits)
Level 3 –  Whakarongo kia mōhio ki te reo o te ao whānui (4 credits)
Hospitality/Te Tunu Kai
Level 1 – Prepare and present meat in the hospitality industry (4 credits)
Level 2 – Analyse issues related to the provision of food for people with specific food needs (5 credits)
Level 3 – Te Kura Pounamu (Correspondence) Home economics 3001 (pending)
TE TAITOKERAU SECONDARY SCHOOLS'
KAPA HAKA FESTIVAL
11th – 12th April
KERIKERI HIGH SCHOOL
If there are any keen parent helpers who would like to be  involved in helping our kapa haka group prepare for this wonderful event
please contact Whaea Rewa at the school.
 Sports News
School Wide Swimming Sports
Swimming Sports is for both the Junior- and Senior School (Years 1 to 13) and will be held on Thursday 23 February 2018. We are anticipating rivalry between the house groups again this year and we are looking forward to see which house group will be the most dominant. ALL students are required to participate in one way or another. Whanau are more that welcome to attend!!
Events will include:
Individual Medley (Backstroke, Breaststroke, Freestyle, Butterfly*)
Junior house relay
Mid school house relay
Senior school house relay
Staff relays
ALL EVENTS WILL START 9.30am.
GENERAL INFORMATION FOR STUDENTS
Mufti day – STUDENTS TO WEAR HOUSE COLORS
Mangopare (Green);  Tangaroa (Blue);  Kiwa (Black);   Warehenga (Red);
POINTS
50 POINTS FOR 1ST PLACE
40 POINTS FOR 2ND PLACE
30 POINTS FOR 3RD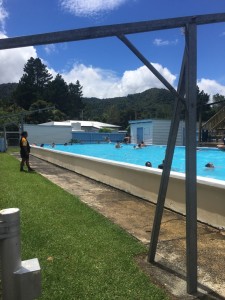 Volleyball Tournament Dates:
 Northland Secondary School Senior Boys Volleyball Tournament is being held in Whangarei on the 27th of February. 
 Northland Secondary School Senior Girls Volleyball Tournament is being held in Whangarei on the 1st of March. 
Adam Blair Rugby League Competition 
The start date for this competition will commence on Wednesday the 21st of February and every Wednesday thereafter. The location of the games and opponents will be made available once the draw has been received. Frank Proctor will be the Rugby and League Coach for 2018. A huge acknowledgement to Frank for his time and commitment to the boys.  
General School-wide Notices

A&P Show this Saturday – has been cancelled
Swimming Pool will be open during Lunch Break for all students
They must have a change of clothes and a towel. Let's make the most of the pool while the weather is still hot !!!!!!
Canteen Prices Term 1 
Hot Chips,Hot Dogs,Spring rolls, Pizza and Pies  $2.50
Wraps & Sandwiches (Chicken/Ham, egg, lettuce, tomato, onion and mayo)  $4.00 or half wraps $2.00 
Hashbrowns $1.00, Lasagne $3.00,Sausage Rolls $2.00
Watermelon 50c, Ice pops 50c, Moosies $2.00, Juicies $2.00
Large Water $2.50, Small Water $1.00, Large Juice $3.50, Small Juice $1.50, Chocolate Milk $2.00
Also: Will make something different at least once a week…..Quiche on Monday
Any other ideas will be welcomed. Skye Robertson 
 Hip Hop comes to Broadwood next Wednesday……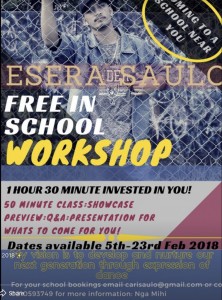 NZQA: The abbreviation NZQA stands for New Zealand Qualifications Authority.  In other words they are in charge of all the qualifications that are awarded in New Zealand.  NZQA works for the Ministry of Education and the latter works for the New Zealand Government who wants to see all New Zealanders acquire at least NCEA Level 2.  NCEA stands for National Certificate of Educational Achievement.  When you do the mahi and pass NCEA Level 2, it feels like a big cloud has been lifted from your mind.  You will start to think smart and crystal clear and companies and institutions all over the world will fall over their feet to employ you and give you heaps of money.  However, when you chose to go a little further, the world will be your oyster.
POSTERITY PHOTOS:  We are fortunate to have iPads all over the school.  We have to use our iPads to take photos for posterity as well.  Soon a publication about our school will see the light and YOUR photos may be in it.  Posterity photos need to be emailed to, or shared with Matua Carl or Whaea Ngaire.  These photos will be stored in a central drive (photo-bank) and will be the property of our whole community to be published or shared as we please.
FACEBOOK  COMMUNITIES FOR LEARNING
Broadwood Area School Te Kura Takiwa O Manganuiowae is our school Facebook Page, within that page is a number of educational pages which teachers are beginning to set up. These educational pages will be set up as closed groups for students and whanau if they wish to access classroom work. Matua Carl has been very busy creating pages for his classes so stay tuned. The school main page will be updated with new posts every week. All you have to do is search for us and LIKE us.
Second hand Uniforms: Blue or White shirts/school black jackets….
If you have any unwanted uniform T-shirts, jackets etc. please drop them off at the school office. Students and whanau are always keen to have a second or third spare school shirt.
Student Details Updated….Urgently required 
Please update emergency contacts and details at the office for your child/children.  It is vital to have a valid contact number and person should the school close early or your child is sick.
Digital Fluency Professional Development Training will continue this year along side PB4L (positive behaviour for learning). We are also getting ready to upgrade our school website www.broadwood.school.nz. We shall keep you all posted.
MAURI ORA